About SaniStride – Shoe Sanitizing Mats
Footwear Sanitizing Antimicrobial Mats for Shoe Disinfecting
Footwear Sanitizing Antimicrobial Mats made by SaniStride® are Shoe Disinfectant Dispensing Mats made in the USA since 2011, aka Shoe & Boot Bath mat, Boot Dip mat, and sanitizer doormats, designed to easily disinfect the bottoms and treads of shoes and boots. The customer adds the sanitizer of their choice
(Please be advised – Chlorine bleach and some other very stringent disinfectants will damage the insert and possibly the rubber basemat. SaniStride® will not be responsible for replacing pieces damaged by the use of such chemicals).
Simple to use, the SaniStride® system has been independently lab tested to be 99.99% effective as a Shoe Sanitizer Delivery System for reducing the spread of the germs (MRSA and many others) targeted by the sanitizer/disinfectant of your choice. Of course, the sanitizer used must be rated 99.99% effective for our system to provide the same results.
Our proprietary triple-layered Insert is what sets the SaniStride® Sanitizer Delivery System apart from all others… do not be enticed by cheaper "knock-off" mats… "they do not work" say our returning customers after sampling.
Industries that Use SaniStride® Footwear Sanitizing Mats
Agriculture
Aquarium
Emergency Medical
Farm
Fire Service
Fish Hatchery
Food Processing
Health Care Clinics
High Technology
Hospital
Kitchen
Kennel
Laboratory
Law Enforcement
Locker Room
Manufacturing
Packaging
Research
Restaurant
Restroom
Science
Shelter
Sports Facility
Tactical
Training
Veterinary
Shoe Sanitizing, Antimicrobial Mats – Technical Information
The SaniStride® Footwear Sanitizing Antimicrobial Mats are made up of 2 pieces; an SBR rubber base-mat well, and a proprietary handmade insert perfectly designed to kill germs. The SaniStride® System is unlike any other shoe sanitizer mat or sanitizing doormat on the market. Made in The USA (Chehalis, WA) the rubber base-mat is chemically formulated for SaniStride® to be extremely flexible yet incredibly strong and durable. The black base-mat compound will not stain floors or shoes and will last many years providing it is not placed atop a sharp object and chlorine or similar stringent or caustic chemicals are not used in it.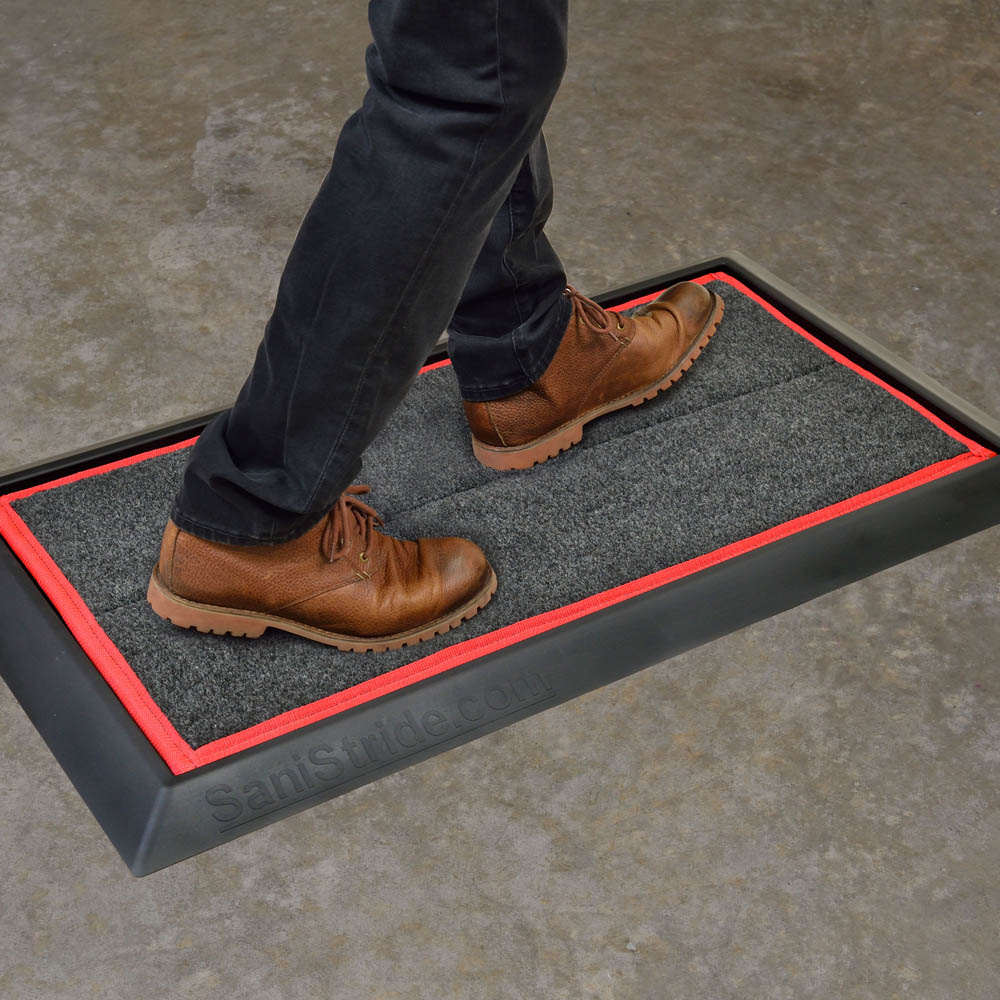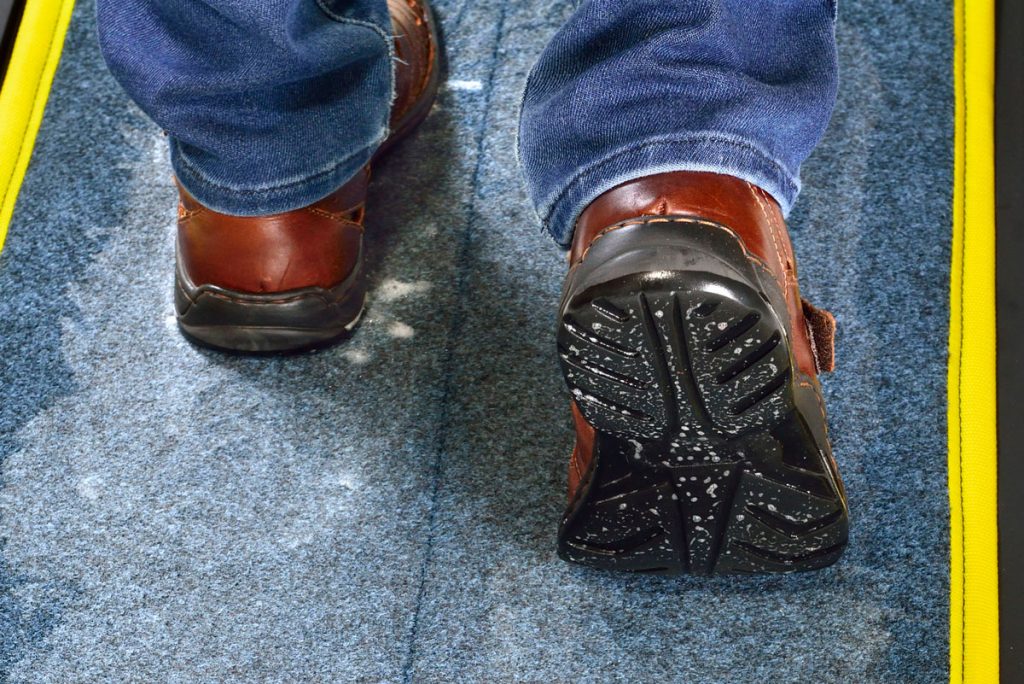 Our proprietary inserts, handmade in Portland, Oregon since 2011 are unlike any shoe sanitizing floor mat component on the market. The Stride at 1 inch thick and the Low Profile at 1/2 inch thick are TRIPLE LAYERED and composed of a high-grade indoor/outdoor carpet and a very absorbent interior material. They are very spongy/absorbent and retain within the material a majority of the germ-killing liquid added to them.
Because of their proprietary composition, when stepped on, these double-sided inserts have the ability to deliver a large quantity of the shoe disinfectant up into the treads and arches of footwear thoroughly saturating them as well as the sides of the sole.